Dr. Gerry van Oossanen

studied Veterinary Rehabilitation Medicine and Sciences at the Universities of Antwerp  and Utrecht and graduated on equine movement science (research subject: the triangle horse-saddle-rider) and has a Master degree in Equine Physical Therapy Science. She is also a chartered animal physical therapist, certified acupuncturist and certified equine thermographer (Ohio State University). She is the Founder and  Director of the Academy for Master Saddle Fitting Consultants. She has specialized in back and neck disorders (especially in relation to saddles and bridles), and neurologic movement disorders and she developed a special back friendly horse & rider rehab training program. She set up the first Rehab Centre for Horse & Rider, which she run for many years in The Netherlands before she recently moved to France.  Since Gerry is always looking to implement new ideas, new research and new theories she founded the MSFConnection, together with Dr. Annemarie van Gelder, Caroline Lindsay and Jo Parkman.
Jo Parkman
Jo successfully completed a Master's Degree in Equine Science after obtaining a First Class Honours degree in Agricultural Science with a specialist Equine Module. Her research thesis was written on navicular syndrome and was the foundation of her interest in equine biomechanics and the detrimental influence of discomfort on sports horses' performance.  Jo was one of the first people to qualify as an Equine TTEA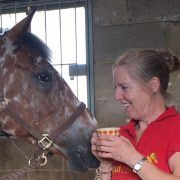 M Practitioner in the UK and was taught by the founder of this therapy Linda Tellington-Jones herself. Jo is also qualified to teach TTEAM techniques to other equine therapists and clients. Jo is a qualified Adult Teacher and has held various senior equine lecturing positions up to degree level. She was also a specialist post-16 education equine inspector  for the Adult Learning Inspectorate and for Ofsted as an HMI over a career of some 15 years as an education inspector. Jo has some 25 years professional experience of  working with horses with behavioural, poor performance and training problems and is now also a Master Saddle Fitting Consultant. Jo's equine therapy practice, Equicorrect, operates across the UK and South-West France, where she is based. She has a particular interest in enabling sports horses to fulfil their potential.